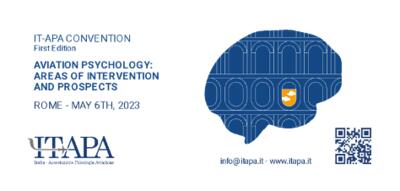 1st ITAPA Convention
20 January 2023
Aviation Psychology: Area of Intervention and Prospects
In the first ITAPA conference, aviation professionals and human factors experts will engage together with sector users in the study of human performance and in the promotion of aeronautical operators health, both crucial factors for guaranteeing flight and air transport safety.
The objective of the conference is to promote aviation psychology and the role of the aviation psychologist as an emerging and crucial profession contributing to guarantee high safety standards, as require by EASA reg. 1042/2018. The work programme includes the presentation of scientific research, Italian and international projects, professional accreditation procedures and testimonials relating to areas of application. The even is aimed at aviation professionals and stakeholders to broaden networks, facilitate meetings, collaborations and discussions on aviation psychology.
Related link
---
Next Latest News:
21/1/2023 EASA Survey on support programmes, psychological assessment and psychoactive substances testing
Previous Latest News:
28/12/2022 EAAP publishes "Selection in Aviation"
---