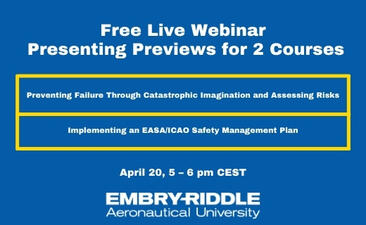 ERAU Live Webinar on Safety Management Systems
15 April 2021
EAAP Corporate member Embry Riddle Aeronautical University is offering two virtual/online SMS courses:
1) Implementing an EASA/ICAO Safety Management Plan, May 20-21, 2021 (virtual) - Jules Kneepkens & Simon Roberts
2) Preventing Failure Through Catastrophic Imagination & Assessing Risks, May 24 - June 13 (asynchronous, part-time, online) - Dr. Achim Ruff-Stahl & Dr. Daniel Vogel
A preview to the courses will be given during a FREE webinar next week: April 20th from 5:00 pm- 6:00 pm CEST.
Register here. For questions, please contact or call +4915206522400.
---
Next News Archive:
8/5/2021 EAAP Business Meeting Online: 8th May 2021, 14.00 - 17.00 CET
Previous News Archive:
7/4/2021 EFPA calls on the EU to make 'EU4Health count 4MentalHealth2'
---