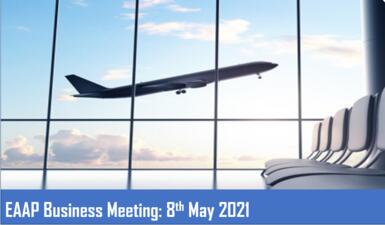 EAAP Business Meeting Online: 8th May 2021, 14.00 - 17.00 CET
8 May 2021
Due to the postponement of the EAAP Conference, the EAAP Business Meeting was not able to take place in 2020.
We would therefore like to invite all EAAP members to participate in an online Business Meeting on Saturday 8th May from 14.00 - 17.00 CET.
If you are planning to attend, prior registration is mandatory by 1st May 2021.
Please register for the Business Meeting here!
All details on how to log on will be distributed in time for the meeting. Please note that all EAAP members are welcome to the Business Meeting, although, as per the EAAP statutes, only Full and Honorary Members are allowed to vote.
For more details please see the newsletter dated 17th March 2021.
---
Next News Archive:
18/5/2021 International Symposium on Aviation Psychology
Previous News Archive:
15/4/2021 ERAU Live Webinar on Safety Management Systems
---