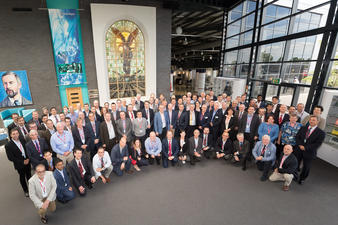 EAAP and ESASI strenghten their strategic partnership
30 May 2019
The European Society for Air Safety Investigators (ESASI) organised a workshop dedicated to "Safety Investigation throughout the aircraft lifecycle- design for Safety". The workshop was kindly hosted by Rolls-Royce and took place in Derby from 22-23 May 2019.
Dr. Michaela Schwarz was invited to represent EAAP by providing a panel introduction on the "human factors perspective on the effectiveness of design safety recommendations" hosted by Prof. Graham Braithwaite (University Cranfield).
More than 100 representatives from predominantly European safety investigation authorities and manufacturers participated in lively discussions and shared their wisdom on improving safety recommendations related to aircraft design. Participants highly appreciated EAAP's contribution and were interested to learn more about human factors design principles and usability engineering. In return EAAP learned a lot about the HF challenges safety investigation authorities face in light of increased aircraft automation and design complexity.
EAAP and ESASI recently linked their websites and strenghtened their partnership by promoting and sending representatives of both associations to EAAP and ESASI/ ISASI events.
For more details please visit the EAAP partner page:
www.eaap.net/partners.html or send an email to
For more details on ESASI visit the ESASI homepage.
Photo Source: kindly provided by ESASI
Related link
---
Next Latest News:
11/6/2019 EFPA May 2019 newsletter now available
Previous Latest News:
30/5/2019 Successful Initial Human Factors in Flight Safety Course kindly hosted by NetJets
---