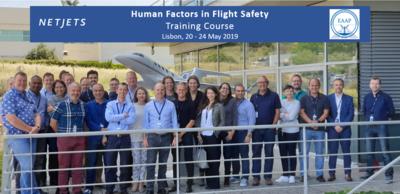 Successful Initial Human Factors in Flight Safety Course kindly hosted by NetJets
30 May 2019
Around thirty participants attended the Human Factors in Flight Safety Course from 20-24 May 2019 at NetJets. Completion of the training course is recognised by EAAP as contributing towards requirements for those wishing to become an EAAP-certified Aviation Psychologist or Human Factors Specialist.
The training course was prepared by renowned Human Factors experts Brent Hayward and Dr. Alan Hobbs who conducted it on behalf of EAAP. The first of these courses was held at Ispra, Italy, in 1999, and since then the course has been held regularly at different locations including Luxembourg, Stockholm, Madrid, Interlaken, Dublin, Dubai and Barcelona, with a total of more than 450 participants attending to date.
This year, NetJets hosted the training course at its Lisbon office and received participants from airlines, regulators, air navigation service providers, air accident investigation authorities and the armed forces, from about a dozen countries worldwide.
A big thank you to Nuno Aghdassi (Head of Flight Safety at NetJets) for hosting the course. Special thanks to the trainers Brent Hayward and Alan Hobbs for their important contribution to enhancing Human Factors skills of EAAP members!
Photo Source & Text kindly provided by NetJets
---
Next Latest News:
30/5/2019 EAAP and ESASI strenghten their strategic partnership
Previous Latest News:
22/5/2019 ESASI Workshop 22-23 May 2019, Derby, UK
---