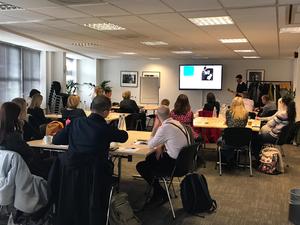 20 psychologists at the clinical skills for working with air crew course!
26 March 2019
EAAP has been at the forefront of promoting mental health and well-being among pilots and aviation employees. The fifth two-day EAAP supported, and British Psychological Society delivered, workshop on Clinical Skills for Working with Air Crew was held at the BPS London office 4-5 March. It was attended by 20 psychologists, human factors and flight safety specialists as well as medics and pilots. It remains the only course of it's kind worldwide and covers a range of topics that relect the EASA recommendations following the Germanwings pilot suicide crash in 2015. These include an introduction to the pilot work and regulatory context (presented by two commercial pilots), psychological assessment and pilot selection themes (presented by clinical psychologists), as well as pilot peer support, confidentiality issues and psychological trauma and counselling (presented by psychologists and pilots). Participants came from beyond the EU and included colleagues from the UAE, Hong Kong, South Africa and Australia. Whilst learning is facilitated through group interaction, there are several themed powerpoint presentations that are shared with participants, as well as video demonstration and extensive relevant reading material. The course is hugely popular and sold out three months ahead and EAAP members wishing to join the next course 18-19 July 2019 should register soon.
Professor Robert Bor Clinical & Aviation Psychologist
EAAP Board Member
www.bps.org.uk/events/aviation-psychology-clinical-skills-working-air-crew-18-19-july-2019
Aviation Psychology: Clinical skills for working with air crew (18-19 July 2019) | BPS - bps.org.uk
Public and industry attention has been forced to focus on the psychological wellbeing of pilots and a lack of clinical psychological skill in aviation.
www.bps.org.uk
Related link
---
Next Latest News:
1/5/2019 EAAP33 Conference proceedings available for download now!
Previous Latest News:
26/3/2019 20th International Symposium on Aviation Psychology- 7-10 May 2019 Dayton, Ohio
---