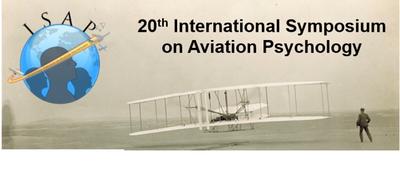 20th International Symposium on Aviation Psychology- 7-10 May 2019 Dayton, Ohio
26 March 2019
Register at aviation-psychology.org/2019-meeting/registration/
Make your hotel reservations by April 1, 2019 via the ISAP website to get the special ISAP rate at aviation-psychology.org/2019-meeting/travel/conference-venue/
Technical Program can be viewed at
aviation-psychology.org/2019-meeting/program-2/preliminary-program/
Program Highlights include:
Keynote Address: Robert Sumwalt, National Transportation Safety Board Aviation Human Factors: Lessons Learned From the Sifting Through the Ashes
Invited Address: Charles Spence, Oxford University Neuroscience-Inspired Multisensory Design
Invited Address: Amy Pritchett, Pennsylvania State University Re-Architecting the Human-Autonomy Team
Plenary Practitioner and Researcher Panels
ISAP Fellows Forum: Preparing for the Future of Aviation Psychology, Dennis Beringer, John Flach, Richard Jagacinski, Philip Smith, Christopher Wickens
Read more about the Program Highlights at
aviation-psychology.org/2019-meeting/program-2/program-highlights/
Hope to see many of you at ISAP!
Pamela Tsang & Michael Vidulich
ISAP Symposium Co-Chair
Related link
---
Next Latest News:
26/3/2019 20 psychologists at the clinical skills for working with air crew course!
Previous Latest News:
8/3/2019 Women's Day 2019 - EAAP is proud to have 45% female members!
---