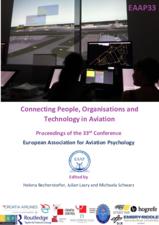 EAAP33 Conference proceedings available for download now!
1 May 2019
The proceedings of the 33rd EAAP Conference themed Connecting People, Organisations and Technology in Aviation are now available for download in the EAAP member area (individual username and pw required!).
www.eaap.net/members/downloads.html
The EAAP Board is also gearing up for the 2020 Conference.
Please save the date: 28 Sep - 02 Oct 2020. Location still to be confirmed.
Conference registrations will open on 1 Sep 2019 together with the Call for Papers.
All information and important dates are published timely on the conference website: conference.eaap.net/
Related link
---
Next Latest News:
22/5/2019 ESASI Workshop 22-23 May 2019, Derby, UK
Previous Latest News:
26/3/2019 20 psychologists at the clinical skills for working with air crew course!
---