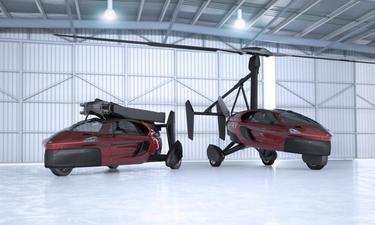 First Flying Car model released!
13 February 2017
In 2008 PAL-V International B.V. was founded and started to design a new type of personal transport: a flying car for door to door transport! Former EAAP president Peter G.A.M. Jorna is chairman of the supervisory board and PAL-V's expert in Human Machine Systems design and evaluation and contributed together with a team of very skilled engineers and world class partners to release and test fly the first prototype in 2012.
After years of prototyping and research the first, exclusive, limited, historic edition in its line-up of flying car models, the PAL-V Liberty is now released. A twin engined dual modality transport for 2 persons with an attractive tilting cabin while driving and foldable Autogyro technology for flying high and dry! Its unique design fits existing regulations for both driving and flying. The next chapter in the history of mobility is being written, by PAL-V International B.V.!
Related link
---
Next News Archive:
6/6/2017 14th Annual Meeting of the NAV Portugal CISM Team
Previous News Archive:
2/2/2017 EAAP Co-Founder of the European Pilot Peer Support Initiative
---