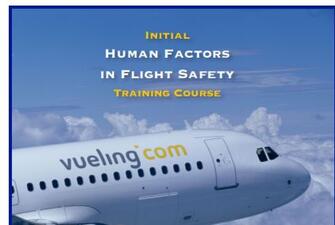 Initial HF in Flight Safety Course 25-29 April 2022 - Registrations Open Now!
1 March 2022
Registrations are now open for the 2022 Initial Human Factors in Flight Safety training course, to be held on-site in the beautiful seaside town of Sitges, near Barcelona, from 25-29 April 2022, kindly hosted by Vueling.
The 5-day training course will be delivered by the experienced team of Brent Hayward and Alan Hobbs, together with special guest presenter, clinical and health psychologist Catarina Cunha.
The course will be conducted in a COVID-safe manner. The hotel training venue in Sitges has been selected with that in mind and conduct of the course will comply with all national and local government requirements and protocols regarding COVID-19 safety and event management. This may include requirements for providing proof of vaccination and/or negative COVID-19 test results as mandated locally or required by the course team.
Completion of this course is recognised by EAAP as contributing towards the requirements for accreditation as an Aviation Psychologist or Human Factors Specialist.
A detailed course information and registration brochure has been released and can be downloaded via the below link.
Those with any remaining questions about the course please contact Brent Hayward:
File downloads
---
Next News Archive:
19/3/2022 Call for Papers - 15th IFAC-HMS Symposium, 12-15 Sept 2022
Previous News Archive:
27/1/2022 New EAAP Code of Professional Practice
---