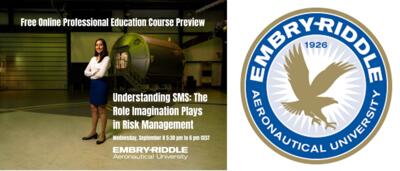 Free Online Course Overview - 08 September 2021 17:30 CEST
5 August 2021
Embry Riddle Aeronautical University is presenting an overview of the upcoming SMS course with a strong focus on Human Factors.
This 3-week, part-time online course will prepare managers, entrepreneurs, aviation psychologists, and organizational members from the sharp end in aviation and other high risk / high consequence areas to understand what the intent of SMS is, why failures happen, and ideally how to avoid them. The course concentrates on the theoretic underpinnings and the scientific discourse behind Safety Management Systems (SMS), and the policies governing it. Participants should expect a workload of 6 hours per week.
This is an asynchronous online, instructor-facilitated course. Individual live-interaction with instructors via Zoom is available during scheduled office hours and upon student request. The course must be completed by its scheduled end date. Digital certificates are available upon successful completion of the required discussion posts, in which students will demonstrate the learned concepts, methods, and techniques.
To register please visit www.enrole.com/erau/jsp/course.jsp?categoryId=71DDDB00&courseId=EUR-1005
A recording of the Course Info Webinar can be viewed here (forward to minute 32):
Please find dates and all details in the course brochure below.
For questions or additional information, please contact the Embry-Riddle Europe Campus in Frankfurt, Germany: or +4915206522400
---
Next News Archive:
30/8/2021 European CISM Conference 14 -15 October 2021, Lucerne, Switzerland
Previous News Archive:
14/7/2021 10th International Summer School on Aviation Psychology - Online 23-25 September 2021
---