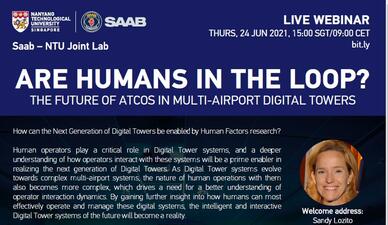 Saab/ NTU Live Webinar 24 June 2021 09:00 CET
13 June 2021
Are humans in the loop? The future of ATCOs in multi-airport digital towers
For more information please download the webinar flyer below or contact:
Dr Michael Lochinvar S. Abundo
AssistantDirector and ProgrammeManager
+65 9066 3584 |
File downloads
---
Next News Archive:
20/6/2021 ESASI Spring/Summer Newsletter out now!
Previous News Archive:
13/6/2021 ESASI Annual Seminar 2021 - GOES ONLINE!
---