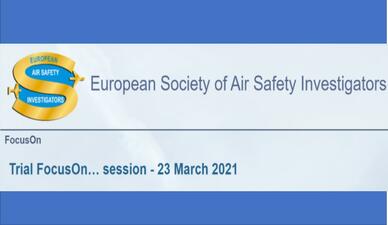 ESASI Focus on..
2 March 2021
ESASI intends to run a trial FocusOn... session on 23 March 2021. The focus will be on insurance activities that run in parallel to a safety investigation. We are still developing the session and are speaking to a number of potential presenters, but would hope to cover: the relationship between the SIA and the insurer; use of the interim and final report; how the insurance industry influences safety standards.
This FocusOn... session will be hosted on Zoom and will start at 1300 UTC (1400 CET) on Tuesday 23 March 2021. The formal session will be kept to a maximum of 2 hours and the virtual meeting room will be opened from 1230 UTC to allow you to meet and enjoy a coffee (also free!). We also intend to keep the virtual room open for a further 30 minutes at the end of the session to allow members who so which, the opportunity to continue informal discussions.
If you are interested in joining please send an email to to obtain a link to the meeting and details of Zoom meeting good practices.
Related link
---
Next News Archive:
2/4/2021 European CISM Conference 14 -15 October 2021, Lucerne, Switzerland
Previous News Archive:
22/2/2021 Virtual Seminar: Personality Traits That Predict Behavior in Pilots - 11-12 March 2021 09:00-16:00 CET
---