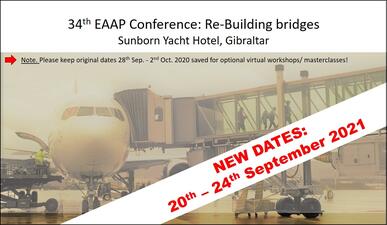 EAAP34 Conference postponed until 2021!
9 April 2020
After careful consideration and in close coordination with all involved, the EAAP Board has decided to postpone the 34th EAAP conference by 1 year.
We understand that this may be a disappointment to many, but we feel that considering the present Covid-19 situation and the effect on entire aviation industry, it is best to reschedule.
If you have submitted an abstract for EAAP34 you will be contacted personally by the scientific committee. If you have already signed up for the 2020 conference then you will receive a separate email from the EAAP treasurer.
We hope that this information reaches you in time to plan your agenda for the rest of the year. We will stay in touch for alternatives to do our very best to stay close contact until we are able to meet in person again in 2021.
At the moment we are looking at options to be able to offer some form of virtual workshops or masterclasses in the planned conference week (28.09.-02.10.2020). Please keep the dates saved in your diaries!
All details regarding the EAAP Conference will be available on the EAAP conference website as soon as possible: conference.eaap.net/
Many thanks for your understanding and please do not hesitate to contact us on if you have any questions or concerns regarding the 34th EAAP Conference.
We look forward to meeting you again, both virtually and in person, as soon as possible.
Happy Easter,
look after yourselves and each other,
Your EAAP Board,
Michaela, Gunnar, Karina, Rob, Renée, Mickaël & Jenny
---
Next News Archive:
29/4/2020 EAAP Selection in Aviation Questionnaire
Previous News Archive:
24/3/2020 ESASI Regional Seminar - new date: spring 2021
---