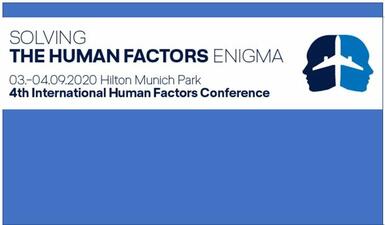 4th International Human Factors Conference
24 February 2020
For the last 50 years the aviation industry and other industries have trained and taught human factors and crew resource management. One would think that we know what we are talking about and what and how to train. But there are still some mysteries to be solved. Some of the topics for this conference are: How to train our brain, motivation, frustration and resilience, critical thinking, human factors and leadership in the most extreme emergency, human cooperation and empathy.
The conference will be held in Munich on 3rd and 4th September 2020.
For more information please visit the website.
Related link
---
Next News Archive:
24/2/2020 HCI International 19th - 24th July 2020
Previous News Archive:
14/2/2020 In Memory of Marcello Ralli (1933-2020)
---