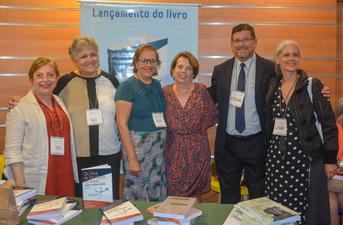 Book release: Psychology in Brazil- Studies & Practice in Aviation
11 June 2019
The Brasilian Aviation Psychology Association (ABRAPAV) released their second book in Aviation Psychology during the 2nd Aviation Psychology Congress in Rio de Janeiro . The book is currently only available in Portuguese. Table of contents and abstracts will be made available in Engllish language in due course.
Photo source: ABRAPAV team & authors: from left to right: Marcia Fajer, Selma Ribeiro, Conceicao Pereira, Marcia Molinari, Cesar Santos and Lisia Cabral
EAAP congratulates ABRAPAV on this important milestone and is looking to intensify the cooperation between Europe & South America.
---
Next Latest News:
29/7/2019 Eye tracking in Aviation, 17 March 2020, Toulouse (France)
Previous Latest News:
11/6/2019 EFPA May 2019 newsletter now available
---