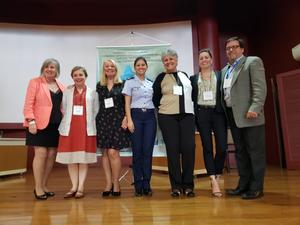 Sharing Aviation Psychology Wisdom in Rio!
11 June 2019
About 60 psychologists from South America (Brazil, Argentina and Chile) working in the Aviation industry were sharing their knowledge and experience in Aviation Psychology. Michaela Schwarz (EAAP) and Mariluz Novis (AEPA Spain) were invited speakers representing European Aviation Psychology developments and successes.
The Brasilian Association for Aviation Psychology (ABRAPAV) organised the 2nd national congress on Aviation Psychology from 3-5 June 2019 in Rio de Janeiro.
EAAP welcomes new members from ABRAPAV to continue to learn from each other!
Picture source ABRAPAV: from left to right: Mariluz Novis (AEPA), Marcia Fajer, ABRAPAV), Kinga Zavory (Argentina), Selma Ribeiro (ABRAPAV), Camilla Machado (Brazil), Michaela Schwarz (EAAP) Pedro Acuna (Chile)
Related link
---
Next Featured by EAAP:
20/7/2019 Another successful summer school in Graz- Austria
Previous Featured by EAAP:
16/5/2019 Successful ASMA Annual Meeting 5-9 May 2019 Las Vegas, USA
---