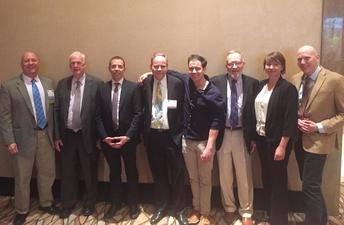 Successful ASMA Annual Meeting 5-9 May 2019 Las Vegas, USA
16 May 2019
As part of the Aerospace Medical Association's annual meeting, a series of workshops are open to registrants who include doctors, psychologists and nurses from civil and military aviation. This year's meeting took place in Las Vegas and Dr. Robert Bor was invited to co-chair and contribute to the one day workshop on Pilot Selection. The first half of the day was devoted to 'Select In' skills and addressed the requirements for determining the job specification and assessment of pilots in particular pilot occupational settings (fixed wing, fast military jet, cargo operations etc) and was facilitated by Dr's Carl and Arianna Hoffman. It provided detailed and thorough guidance on the selection process and emphasised ethical issues too. The afternoon was more of a panel and brought together a range of speakers. Dr Ray King psychologist from the FAA introduced the session and provided a rationale for 'Select Out' in high risk occupational settings. He also presented a role play scenario with his actor son Elliot which was excellent. Dr Chris Front, FAA psychologist, presented on how executive dysfunction - however its cause - can lead to behavioural changes that can have an impact on flight safety. Dr Chris Flynn, FAA psychiatrist, summarised the key neuropsychiatric problems and diagnoses that can be medically disqualifying in aviation.
Prof Rob Bor highlighted the EASA requirements for pilot assessments and peer support as well as some limitations of frequently used psychological screening tests comments used in health care. Dr Jim Butcher - the world's leading authority on personality assessment spoke about the use of the MMPI in the personality assessment of air crew. It was by all accounts a fascinating day's workshop and all 40 delegates from different professional backgrounds and representing different nationalities engaged thoughtfully and challenged the presenters with excellent questions. The workshop was deemed successful and there is a request to repeat it in a year when AsMA next convenes in Atlanta. The whole panel expressed a wish to run the event and arrange a joint meeting with EAAP members in the future.
The next AsMA meeting will be held from 17-21 May 2020 in Atlanta, USA.
Related link
---
Next Featured by EAAP:
11/6/2019 Sharing Aviation Psychology Wisdom in Rio!
Previous Featured by EAAP:
30/4/2019 International Congress on Aviation Psychology: 3-5 June 2019, Rio de Janeiro (Brazil)
---