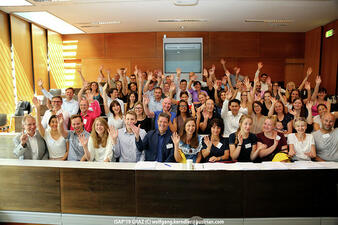 Another successful summer school in Graz- Austria
20 July 2019
From 1-5 July more than 100 international experts and students of Aviation Psychology and Human Factors met in Graz to talk about the Next generation aviation - challenges in future aviation systems. 2019 was already the 9th edition of the popular INternational Summer School in Aviation Psychology (ISAP'19) organised by the Austrian Aviation Psychology Association (AAPA) in cooperation with the University of Graz. For all infos related to Aviation Psychology in Austria please switch to the AAPA website.
Related link
---
Next Featured by EAAP:
8/9/2019 ICASM 2019
Previous Featured by EAAP:
11/6/2019 Sharing Aviation Psychology Wisdom in Rio!
---