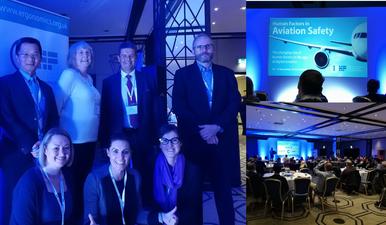 EAAP members participated at the Human Factors in Aviation Safety Event
15 November 2018
A number of EAAP members attended the Human Factors in Aviation Safety Event from 12-13 November 2018 at Gatwick Airport together with 90 psychologists, ergonomists and human factors specialists.
The event was the forth of its kind organized by the Chartered Institute of Ergonomics and Human Factors (CIEHF) in the UK.
The program featured highly relevant research and very competent speakers on:
visual scanning in remote tower operations
the use of eyetracking in ATM and flightdeck design
wellbeing and fatigue risk
human factors in cyber security
aviation automation and what we can learn from driving
improving non-technical skills training & the paradox of intuition
ground handling safety culture and
what middle managers really think about safety & human factors
The rich scientific program got rounded up with scientific posters and stands providing an opportunity to test latest eyetracking equipment and learn about the new university program related to Safety Management and Human Factors in Aviation.
EAAP members got engaged in lively discussions sharing their knowledge and experience and met old and new friends at the various networking opportunities.
Overall the event was of very high quality both in terms of speakers and participants and can only be recommended to EAAP members in the future.
Please visit the CIEHF website for information on future events.
Related link
---
Next Latest News:
21/11/2018 Report on the ISASI 2018 Annual Seminar in Dubai
Previous Latest News:
4/11/2018 EFPA News Magazine October 2018
---