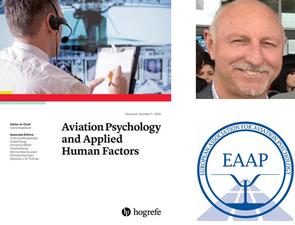 2016 Best Paper Award goes to: Wayne Martin et al.!
6 December 2017
The manuscript "A Flight Simulator Study of the Impairment Effects of Startle on Pilots During Unexpected Critical Events" by Wayne L. Martin, Patrick S. Murray, Paul R. Bates, and Paul S. Y. Lee published in Aviation Psychology and Applied Human Factors, Volume6, No.1, 24–32 has been selected by the Editor-in-Chief and the Associate Editors for the Best Paper Award 2016 of the journal Aviation Psychology and Applied Human Factors.
The first author is invited to present the paper in a Keynote Speech at the 33rd EAAP Conference, 2018
Related link
---
Next News Archive:
24/12/2017 EAAP Season's Greetings 2017
Previous News Archive:
5/12/2017 Prof. Robert Bor receives highest distinction by the Royal Aeronautical Society!
---