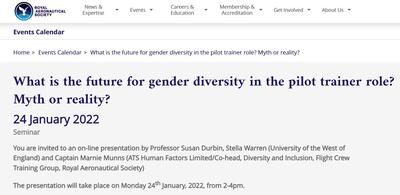 RAeS free virtual seminar: Gender diversity in the pilot-trainer-role - 24 January 1400 UK time
9 January 2022
Dear EAAP members!
The Royal Aeronautical Society invites you to join a free virtual seminar discussing the findings of a research with the University of West of England and the Flight Crew Training Group. Please click below for more details.
www.aerosociety.com/events-calendar/what-is-the-future-for-gender-diversity-in-the-pilot-trainer-role-myth-or-reality/
Regards
Michaela
Dr. Michaela Schwarz
EAAP President
European Association for Aviation Psychology
website I linkedIn I mail
Confidentiality Note: This e-mail and any attachments are confidential. If you are not the intended recipient, be aware that any disclosing, copying, distribution or use of this e-mail or any attachment is prohibited. If you receive this e-mail in error, please notify us immediately by returning it to the sender and deleting this copy from your system. Thank you for your cooperation! ***Consider the environment before printing!***
Related link
---
Next Latest News:
22/1/2022 ERAU Online Course - Understanding SMS - Feb-May 2022
Previous Latest News:
4/1/2022 EAAP launches new conference website!
---