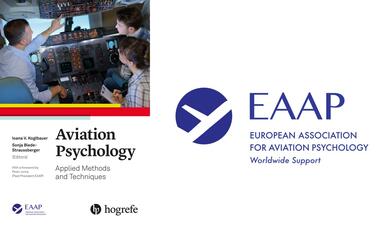 New EAAP Book: Aviation Psychology- Applied Methods & Techniques
14 July 2021
This volume on the latest methods and tools for applied research in aviation psychology guides the diverse range of professionals working within aviation on how to adapt flexibly to the continuously evolving requirements of the aeronautical landscape. Experts from the industry and academia explore selected applications, ranging from aviation system engineering to bridging the gap between research and industrialization, safety culture, training and examination.
The book is considered essential reading for aviation psychologists, human factors practitioners, engineers, designers, operational specialists, students and researchers in academia, industry, and government. The practitioners and researchers working in other safety critical domains (e.g., medicine, automotive) will also find the handbook valuable.
EAAP members will get 25% on pre-orders of the book. Use the discount code accessible in th exclusive member area when ordering at the Hogrefe website. The discount will be shown in your shopping cart during checkout (The code is valid until July 31, 2021).
Preorder for European customers: www.hogrefe.com/eu/shop/aviation-psychology-94199.html
Preorder for Non-European customers: www.hogrefe.com/us/shop/aviation-psychology-94199.html
---
Next News Archive:
14/7/2021 10th International Summer School on Aviation Psychology - Online 23-25 September 2021
Previous News Archive:
20/6/2021 ESASI Spring/Summer Newsletter out now!
---