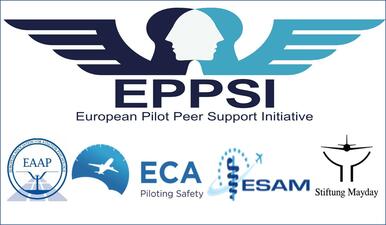 COVID-19 crisis and its effect on aviation mental health
8 April 2020
EPPSI and their founding organisations EAAP, ECA, ESAM and the Mayday Foundation published a joint position paper. Download the paper for distribution here.
On behalf of the EPPSI Board:
Capt. Paul Reuter (EPPSI), Dr. Michaela Schwarz (EAAP), Capt. Tanja Harter (ECA), Dr. Ries Simons (ESAM), Capt. Dr. Gerhard Fahnenbruck and Capt. Hans Rahmann (Stiftung Mayday)
Special thanks go to the members of the EPPSI Board who are not explicitly mentioned in the position paper, but significantly contributed to the foundation of EPPSI and the associated EPPSI Guide on Peer Support.
Capt. Dave Fielding (BALPA)
Drs. André Droog (EAAP)
Dipl-Psych. Gunnar Steinhardt (EAAP)
Dr. Robert Bor (EAAP)
Francesca Bartoccini (Mayday-Italia)
For additional information, questions or support please go to: www.eppsi.eu or send an email to
File downloads
---
Next Featured by EAAP:
26/4/2020 Flight Safety Foundation Covid-19 Toolkit
Previous Featured by EAAP:
10/3/2020 EASA implementation workshop support programme
---