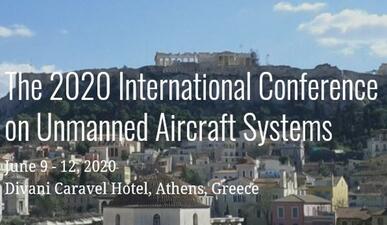 ICUAS '20
5 February 2020
The 2020 International Conference on Unmanned Aircraft Systems, ICUAS '20,will be held for the first time outside the U.S.A., in Athens, Greece. The dates of the conference are June 9-12, 2020.
ICUAS '20 presents a unique opportunity to meet, interact and shape the future of unmanned aviation, worldwide. ICUAS '20 is fully sponsored by the ICUAS Association, a non-profit organization.
The major themes of ICUAS '20 are: integration of manned-unmanned aviation into the national airspace, legal, ethical and privacy issues, regulations, benefits of unmanned aviation to society, UAS/RPAS design for safety, reliability and resilience, and technology standards, all contributing to building high-confidence systems.
ICUAS '20 aims to bring together different groups of qualified representatives worldwide, organization representatives, funding agencies, industry and academia, to discuss the current state of unmanned aviation advances, and the roadmap to their full utilization in civilian and public domains. Special emphasis will be given to research opportunities, and to 'what comes next' in terms of the essential technologies that need to be utilized to advance the state-of-the-art.
For more information please visit the website.
---
Next News Archive:
9/2/2020 Latest ESASI News online now!
Previous News Archive:
1/2/2020 ISASI 2020
---