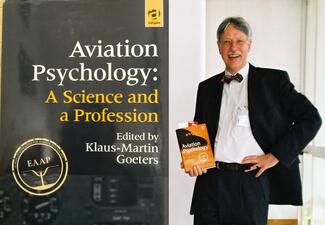 In Memory of Dr. Klaus-Martin Goeters 1943-2020
19 January 2020
It is with deep regret and profound sadness, that we must inform you that highly valued former EAAP member, and long-standing board member, Dr. Klaus-Martin Goeters passed away after a long illness, on 7th January 2020 at the age of 76 .
Klaus-Martin was a psychologist at the Department of Aviation- and Space Psychology of the German Aerospace Center (DLR), Hamburg, Germany from 1970, and Head of the Department from 1986 until his retirement in 2005. He developed his department into a leading research and selection institute in the field of Aerospace Psychology in Europe.
Klaus-Martin was a very engaged and driven EAAP board member from 1991 to 2006 (15 years!). At the '50 years of EAAP' Conference in Potsdam, he retired from the board and was presented with the EAAP Award 2006 for outstanding commitment and achievement in aviation psychology.
We knew Klaus-Martin as a wonderfully friendly and highly committed colleague. He contributed significantly to the development of standards for the application of aviation psychology and the competencies of the people working in the field. Klaus-Martin played an important part in setting up the EAAP accreditation system for aviation psychologists and human factors specialists, kicking off the first course programme at the 22nd Conference in Sabaudia, Italy in 1996. The subsequent book Aviation Psychology: A Science and a Profession (Ashgate, 1998) and the sequel, Aviation Psychology: Practice and Research (Routledge, 2004) both became a must-read for all students and professionals.
Klaus-Martin also took on a leading role in the introduction of the (then not yet mandatory) psychological requirements for pilots in the Joint Aviation Requirements/Flight Crew Licensing (JAR/FCL) regulations issued in 1999.
His professional activities included research on living and working in confined spaces (underwater habitats, spaceflights), psychological selection of operational personnel (pilots, air traffic controllers, astronauts), transfer of psychological tests to different cultures and the design and evaluation of non-technical skills training (NOTECHS) as part of CRM training.
Our thoughts are with his wife Elke and all his family and loved ones at this sad time.
His work, friendships and memories will stay with us!
---
Next News Archive:
1/2/2020 ISASI 2020
Previous News Archive:
1/1/2020 ICCAS 2020 - March 18-19, 2020, ISAE-SUPAERO, Toulouse, France
---