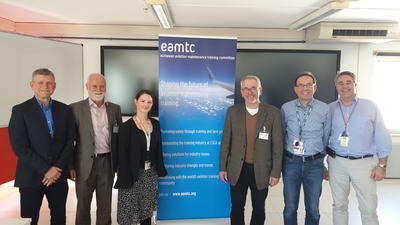 EAMTC 70th General Assembly 2-3 April 2019
2 March 2019
The European Aviation Maintenance Training Committee (EAMTC) met in Luxembourg on the 2th of February 2019 in order to prepare the upcoming meeting which will take place 2nd - 3rd of April.
EAAP will be represented by Gunnar Steinhardt, who was invited as key note speaker. His presentation will focus on "Improving Safety Culture through Peer to Peer Support".
The current EAMTC president Hans Mayer stated his strong interest to build up a cooperation with EAAP. In the photo you can see the EAMTC Committee from left to right: Soeren Rasmussen (Treasurer), Hans Mayer (President), Sandra Neu, Harald Strehling (Secretary), Romain Wagner (Host 70th EAMTC Meeting), Marc Arendt (Supervisory Board Member, Host 70th EAMTC Meeting).
For all information please visit the EAMTC website.
Related link
---
Next Latest News:
2/3/2019 EFPA Newsletter: February 2019
Previous Latest News:
20/2/2019 Successful course on psychometric profiling tools
---