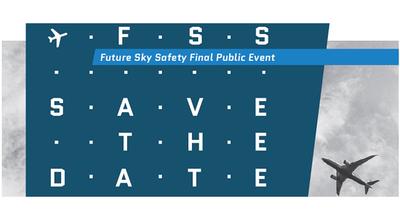 Future Sky Safety Final Public Workshop 6-7 November 2018, Brussels, Belgium
22 September 2018
Future Sky Safety is an EU-funded transport research programme in the field of European aviation safety, aiming at developing new tools and new approaches to aeronautics safety over a four-year period, starting in January 2015 and ending in December 2018.
In the last four years, Future Sky Safety focused on researching four high-level topics: building ultra-resilient vehicles and improving the cabin safety; reducing risk of accidents; improving processes and technologies to achieve near-total control over the safety risks; and improving safety performance under unexpected circumstances. Now, the Programme is ready to present and discuss the final results reached by all the projects within Future Sky Safety in this 2-day workshop.
Please visit the website for agenda and registration.
Related link
---
Next News Archive:
14/10/2018 13th AAvPA Symposium & PAACDEF Conference, 7-9 November 2018, Sydney, Australia
Previous News Archive:
9/8/2018 20th International Symposium on Aviation Psychology- 7-10 May 2019 Dayton, Ohio, USA
---