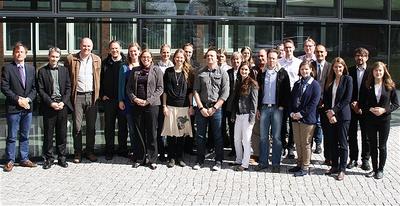 Collaborative Operations in Control Rooms: 9-10 November 2017 Hamburg (Germany)
11 September 2017
We are pleased to announce the two-day final event of COCO, the DLR research project that investigated collaborative operations in control rooms together with project partners from several different fields: airline operations center, air traffic control, airport operations, satellite control, and public transport.
The COCO-Symposium will take place on November 9th and 10th, 2017 at the Radisson Blu Hotel, Hamburg Airport (Hamburg, Germany).
The symposium will address the following topics:
− How to assess the interaction within small groups using eye tracking analyses
− The effects of fatigue on performance in control rooms
− The impact of a communication framework on collaboration in the Airport Control Center
You will gain insight into the results of the COCO project at the DLR and see demonstrations of our simulation tools.
We are delighted to welcome three scientific experts who will be presenting their evaluation of the project results in the context of current psychological research.
Please save the date for this unique event!
Attendance is limited and registration is necessary. If you would like to participate, please send an e-mail to
Visit the COCO website for more information: www.dlr.de/me/coco-project
We look forward to seeing you in Hamburg!
Dr. Carmen Bruder

0049 40 51309661
Dr. Dirk Schulze Kissing

0049 40 51309626
Related link
---
Next News Archive:
19/9/2017 AsMA Annual Scientific Meeting - 6-10 May 2018 Dallas (Texas)
Previous News Archive:
27/6/2017 EAAP, ECA and ESAM team up for the European Pilot Peer Support Initiative!
---