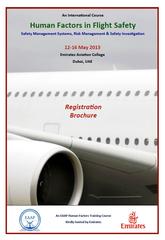 Human Factors in Flight Safety Course DUBAI 2013
12 May 2013
The 18th EAAP Human Factors in Flight Safety course will be held in Dubai from 12-16 May 2013, kindly hosted by Emirates.
This course has been conducted on behalf of the European Association for Aviation Psychology (EAAP) since 1999 by Dr Rob Lee, Kristina Pollack, and Brent Hayward, and this will be the fourth time it has been held in Dubai and hosted by Emirates.
The course aims at providing participants with human factors knowledge and practical tools that can be readily applied to improve proactive safety management, risk management, and safety occurrence investigation and reporting in both civil and military aviation.
For more details on content and registration fees please download the registration brochure.
File downloads
---
Next News Archive:
21/5/2013 Human Factors in Flight Safety Course BARCELONA 2013
Previous News Archive:
3/5/2013 ISAP'13 1-5 July 2013 Graz (Austria)
---