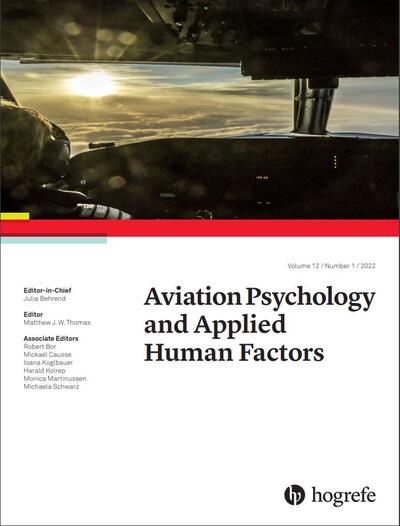 Aviation Psychology and Applied Human Factors
The EAAP Journal Aviation Psychology and Applied Human Factors is the officially organ of EAAP and AAvPA published twice a year by Hogrefe.
Editors
EAAP Best Paper Award
The new annual APAHF Best Paper Award, introduced in 2015 recognizes excellence in aviation psychology and human factors research of a scientific paper, research note or practitioner paper submitted to Aviation Psychology and Applied Human Factors which was accepted for publication in the respective year.
The winner will be selected by the Editor-in-Chief and the Associate Editors of APAHF. The award will be formally conferred at a special session at the bi-annual EAAP Conference. The winning paper will be published in the APAHF journal and the first author will be invited to present the paper in a Keynote Speech at the EAAP Conference.
Eligibility
Any researcher is eligible to submit relevant work. Membership in EAAP or AAvPA is not required. Each manuscript accepted for publication in APAHF will be considered for the Best Paper Award.
Submissions must cover original, unpublished research and comply with the manuscript submission instructions. Manuscripts should be submitted via online submission system from Hogrefe (Editorial Manager).
More details about the Journal can be found here.
Enquiries and Help
All enquiries concerning the journal should be addressed to .