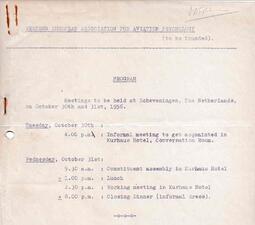 EAAP's 65th Anniversary
31 October 2021
Today, on the occasion of EAAP's 65th anniversary, it is our pleasure to of share some EAAP history with you.
As you may know, EAAP was founded as the Western European Association for Aviation Psychology (WEAAP). The constituent assembly of WEAAP took place on Wednesday 31st October 1956, at the Kurhaus Hotel in Scheveningen (The Hague), The Netherlands. On that date, nine colleagues started a collaboration to create a professional network to promote aviation psychology. At the end of the Cold War, in 1989, the association opened up to the whole of Europe and the letter 'W' for 'Western' was dropped.
To read more about EAAP history please download a copy of our 1956-2006 history booklet here!
---
Next Featured by EAAP:
7/7/2022 ICAO Safety Report 2021 Edition
Previous Featured by EAAP:
14/7/2021 ICAO Mental Health Work Group - Publications available for download online
---