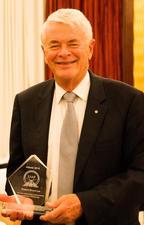 Rob Lee passed away
27 April 2018
It is with great sadness that we inform you of the passing of Dr Rob Lee this morning. Rob died 74 years old following a nine month battle with oesophageal cancer.
Rob was an important figurehead in Aviation Psychology and Human Factors and his professional work has been of great value to flight safety, not only in Australia but globally as well. He was a most committed member of EAAP. He joined EAAP in September 1973, almost 45 years ago, and many participants will remember his special contributions to our conferences about accident investigation. He was very important to the Association and many of us personally in the educational sense as well, being the course leader of the highly appreciated Human Factors in Flight Safety courses together with Brent Hayward and Kristina Pollack for many years. Rob was a personal friend to many of us too.
Rob received the EAAP Award 2014 in Valletta, Malta for his Outstanding Achievements in Aviation Psychology and we will again remember him during our coming conference.
Our thoughts are with Sue Burdekin and his family at this sad time.
If you would like to add a personal note, please find Rob's legacy here: www.legacy.com/guestbooks/canberratimes-au/robert-lee-condolences/188891493?
On behalf of the EAAP board,
André Droog, president
---
Next Featured by EAAP:
6/5/2018 Rob Lee passed away. Nachruf der Deutschen militärischen Flugpsychologie
Previous Featured by EAAP:
16/4/2018 Human Factors in Aviation Safety: 12-13 November 2018, London, UK
---